Hello there!! It's Friday already - I can hardly believe the weekend is here already. As you know the weekend is a great time for blog hopping - I know a lot of you like to write Friday favorites/feature posts. I know I do! You can link yours up here to get a few extra clicks this weekend! Today's reader feature is Kim so here you go:
Hello out there! I blog over at
this is how i roll
and
moderately difficult
.
mostly my life, my family and food
. These are a few of my favorite things! My first blog
is this is how i roll
about food, food...and...well,
food
. I love all things food and it's my favorite thing outside of crafting and spending time out with my family. I post a lot of recipes; original and by others. I hope to add a little spice up in there with experiences in the grocery store, restaurants and with my holiday baking! Stop on in for a little treat!
My other blog is
Moderately Difficult
. This one is about my life; chaotic and real…so read at your own risk. *wink, wink* There I blog about crafts, my writing and anything else that may tickle me that day.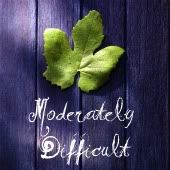 A little about me… I am passionate about life and the people who I surround myself with. The road I've traveled hasn't always been the easiest to say the least. I've been through and conquered many things and that is what makes my life interesting. Just when I think I have some time to relax, another hiccup in the universe makes a wave, throws me up in the air and here I go again! Besides running on the road of chaos I love to craft. I cook & bake, I dabble in photography, I make jewelry and write poetry. I'm sort-of a Jack-of-all-Trades. I try to keep up with everything so I leave myself enough time to pamper my creative side and I love to show it off!
grab my button
!
I need all the help I can get...lol!
I have a full house and a full life..
I'd love to have you along for the ride
!
Want to be featured next week? Let me know!
Got a Friday Favorites post or a feature you'd like to link up? Do it now!